This study guide covers the offences of:
Locking on
Being equipped for locking on
Interference with use or operation of key national infrastructure
There is a downloadable version at the end of this guide.
Looking for more free guides? Find them here!
Locking On
The Public Order Act 2023, s.1
It is a defence to prove that they had a reasonable excuse for the act of attaching themselves, another or an object.
---
Serious Disruption
The cases in which individuals or an organisation may suffer serious disruption include, in particular, where the individuals or the organisation
(a) are by way of physical obstruction prevented, or hindered to more than a minor degree, from carrying out
(i) their day-to-day activities (including in particular the making of a journey),
(ii) construction or maintenance works, or
(iii) activities related to such works,
(b) are prevented from making or receiving, or suffer a delay that is more than minor to the making or receiving of, a delivery of a time-sensitive product, or
(c) are prevented from accessing, or suffer a disruption that is more than minor to the accessing of, any essential goods or any essential service.
---
Time Sensitive Product
"Time-sensitive product" means a product whose value or use to its consumers may be significantly reduced by a delay in the supply of the product to them.
Reference to accessing essential goods or essential services includes in particular a reference to accessing
(i) the supply of money, food, water, energy or fuel,
(ii) a system of communication,
(iii) a place of worship,
(iv) a transport facility,
(v) an educational institution, or
(vi) a service relating to health.
---
Being Equipped for Locking On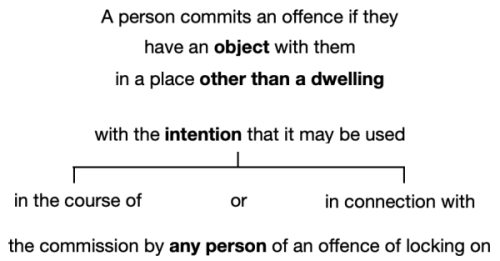 The Public Order Act 2023, s.2
---
Interference With Use or Operation of Key National Infrastructure
The Public Order Act 2023, s.7
It is a defence to prove
they had a reasonable excuse for the act, or
the act was done wholly or mainly in contemplation or furtherance of a trade dispute.
---
Key National Infrastructure
"Key national infrastructure" means –
(a) road transport infrastructure,
(b) rail infrastructure,
(c) air transport infrastructure,
(d) harbour infrastructure,
(e) downstream oil infrastructure,
(f) downstream gas infrastructure,
(g) onshore oil and gas exploration and production infrastructure,
(h) onshore electricity generation infrastructure, or
(i) newspaper printing infrastructure.
The Secretary of State may add, vary or remove a kind of infrastructure.
---
Download study guide
Click here to download.
---